Hrabovo
Where to go for a trip in Hrabovo
Hrabovo - more than 30 tips for trips
---
Apartments Fatrapark 2 are located in the beautiful nature of Hrabovo valley in the heart of National Park Velka Fatra. The excellent location of Fatrapark 2  guarantees that those who want to relax in quiet nature, but also those who want adrenaline and active holidays in Liptov and Hrabovo, will find something to like here.
Tip for those who are still looking for accommodation in Hrabovo: FATRAPARK 2 RESERVATION
List of attractions located directly in Hrabovo:
---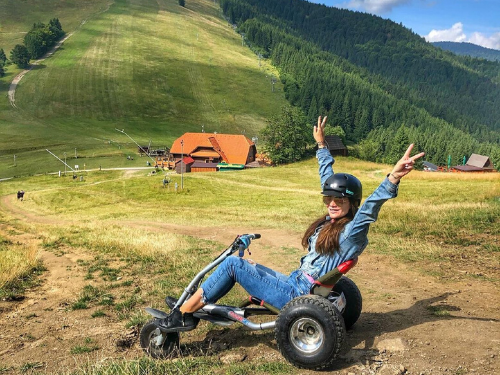 Ski & Bike Park Malino Brdo Ruzomberok
Ski & Bike Park Malino Brdo Ruzomberok is a popular family resort. In winter it is mainly skiing on Malinnôm Brde. The resort offers up to 3.9 km long ski slope, children's and ski slopes and in recent years is a popular resort for ski enthusiasts. In summer it is the bike park Malinô Brdo. Even in summer, there is a cable car in operation, which will take you from Hrabov to the top of the resort Malinô Brdo Ružomberok. The resort is popular with bikers on MTB bikes or among mountain biking enthusiasts. The resort also rents out electric bicycles. And you can also rent a mountain scooter or go-kart here to go down to Hrabov.
Distance from Fatrapark 2: 100 m
Tarzania Hrabovo
A very popular attraction for children and adults is Tarzania Hrabovo - the largest rope park in Slovakia. We recommend to really everyone that you go through one of the available routes. You are sure of the safety rope at all times and the instructors will train you and give you the mandatory equipment.
Distance from Fatrapark 2: 100 m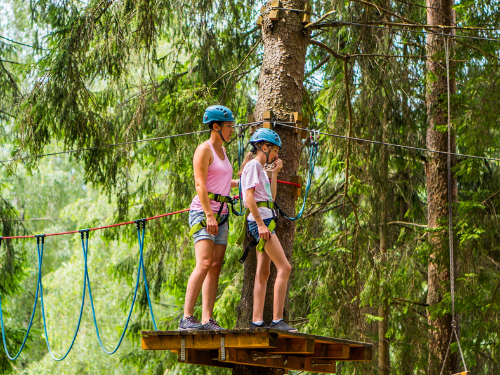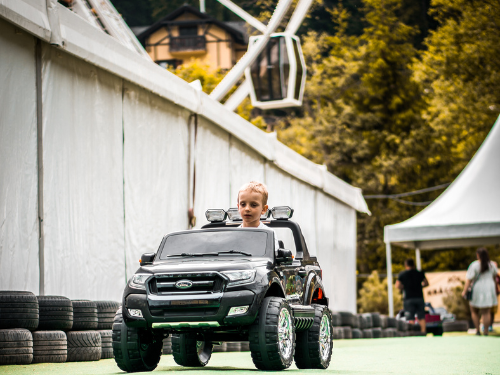 Kingdom of Hrabovo (Kralovstvo Hrabovo)
Newly built entertainment area especially for families with children. For the summer of 2022, there is currently a large sand exhibition on the theme of dinosaurs and: an interactive children's archeological sandpit, an interactive playground that will make your children archaeologists :), various daily animation program and competitions, face painting, airsoft shooting range, inflatable attractions for children , children's electric cars, evening summer cinema and various cultural events and concerts. You can also buy snacks and some souvenirs here.
Distance from Fatrapark 2: 500 m
Zipline Hrabovo
Zipline Hrabovo is a part of the Tarzania Hrabovo complex. Cable car, which is up to 300 meters and passes through Lake Hrabovo. And you have beautiful views of the entire Hrabovo valley and part of the resort Malino Brdo. When driving, the speed is reached from 40 - 60 km / h. It is the longest zipline cable car in Slovakia. The track is weight-restricted for persons weighing a minimum of 40 kg and a maximum of 120 kg. It's a great experience for those who like a little adrenaline.
Distance from Fatrapark 2: 100 m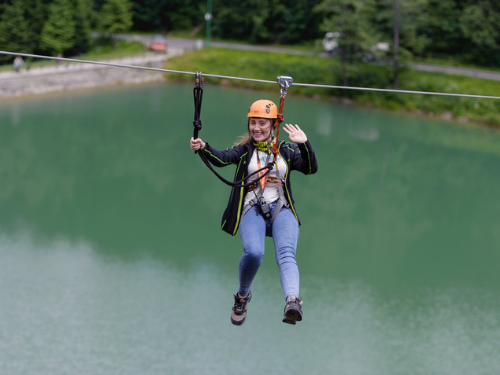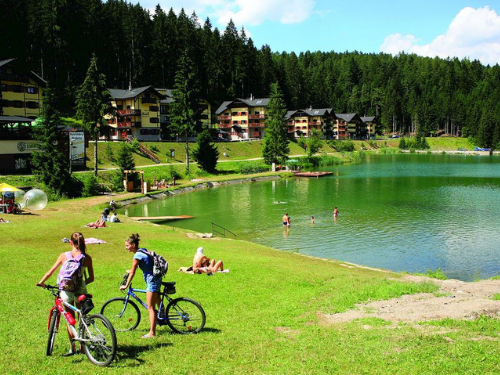 Lake Hrabovo
Hrabovo Reservoir is popular in summer and winter. In summer you can swim - it's water drained from mountain streams, so it's colder, but in summer it's great for refreshment. There is a larger grassy area that serves as a sunbathing beach. In summer, you can rent a paddle board or boats here. In winter, the lake is popular with hardy people, and when it's really frozen, you can skate here.
Distance from Fatrapark 2: 100 m
Aquazorbing Hrabovo
Aquazorbing is another interesting activity that you can try in Hrabovo. It is an inflatable ball that you enter and you can walk on the surface of the water. So what is not easy at all and it is fun for children and adults.
Distance from Fatrapark 2: 100 m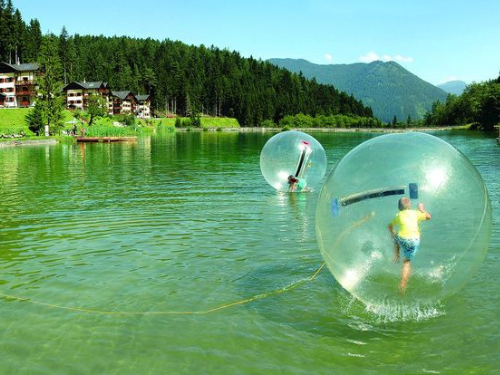 Hrabovska dolina is becoming more and more popular every year. No wonder, because almost everyone will find activity here. You can relax here, but you can also actively have fun. Go to Tarzania or with children to the Kingdom of Hrabovo. In Fatrapark 2 Restaurant you can have a great lunch and end the day with a walk to Cutkovska dolina or a beer in the Grill Bar Motajka.
List of other attractions nearby Hrabovo:
strong>
In winter, ski resorts are definitely the top attraction, and we have several nearby. Right next to Fatrapark is Malinô Brdo Ružomberok and Donovaly, Kubínska hola and Jasná Nízke Tatry are also accessible by car. You can also find cross-country or ski mountaineering trails around Hrabovo. During the summer, our guests appreciate the surrounding hills for hiking - in National Parks: Velka Fatra, Liptov, and of course in the Tatras. Especially tourism in Liptov is becoming more and more popular every year.
Photo gallery of Hrabovo: