Summer and Ski Resorts in Liptov
Tips on where to go skiing in Liptov and around Hrabovo. Most ski resorts turn into amusement bike parks in summer. And where is the best bike park? Get inspiration from tips from Apartment house Fatrapark 2 in Hrabovo valley.
---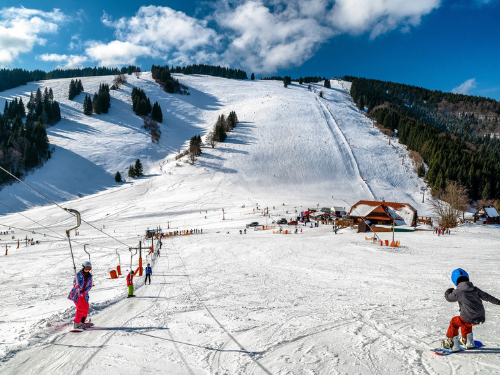 Malino Brdo resort - ski park in winter, bike park in summer
Ski & Bike Park Malino Brdo Ružomberok is a popular family resort. In winter it is mainly skiing on Malino Brdo. The resort offers up to 3.9 km long ski slope, children's and ski slopes and in recent years is a popular resort for ski-alp enthusiasts. In summer it is the bike park Malino Brdo. In addition to downhill MTB trails on mountain bikes, go-karts and mountain scooters are available for rent. Always find out about current prices on Malino Brdo on their website.
Distance from Fatrapark: 100 m
Tarzánia Hrabovo - the largest rope park in Slovakia
Hrabovská dolina is also a resort in itself and our apartments Hrabovo are located right here. We are located only 2 km from the centre of Ružomberok city, but when you come to Hrabovo, it is as if you find yourself in a completely different world. You will see a panorama of the dense green forests of the Great Fatra, and a water reservoir where someone will probably sunbathe or harden in winter. In summer, you can also go boating on the lake and try the Aquazorbing Hrabovo attraction. Of course, you can also refresh yourself here - either in our Fatrapark restaurant or in the buffet by the lake. And I guess the most popular attraction for children and adults is Tarzánia Hrabovo - the largest rope park in Slovakia. We recommend that you go through one of the available routes for really everyone. You are sure of the safety rope at all times and the instructors will train you and give you the mandatory equipment. Part of Tarzania is also Hrabovo Zipline - a 300 m long cable car that goes over Lake Hrabovo. It has a really beautiful view of the whole Hrabovo valley.
Distance from Fatrapark: 100 m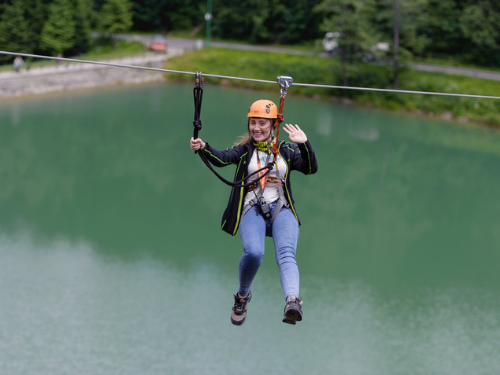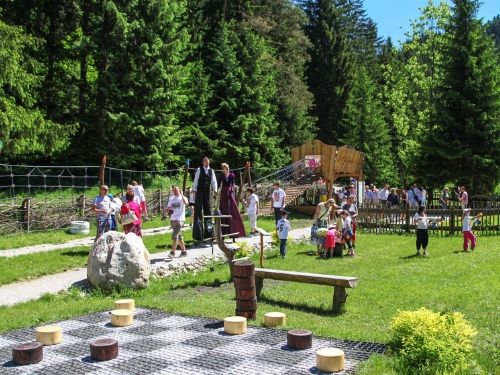 Obrovo - children's attractions in Čutkovská dolina near Ružomberok
Welcome to Obrovo - in the unique world of the giant "Čutko" in Čutkovo near Ružomberok. It is an entertainment area for children up to about 12 years. In Obrovo there are various places that children pass through. Each of the sites has its own story and is associated with the giant "Čutko". There are also animators in the area, who will take the children through these places. If you are planning a school trip to us and you would like to organize Obrovo for children, we recommend contacting the owners of the amusement park - company Liptov Active.
Distance from Fatrapark: 5 km
Kubínska Hoľa - skiing in winter, hiking in summer
The Kubínska Hoľa Ski resort is popular for its wide slopes and very nice views of the Western Tatras and Chočské Vrchy. It is one of the favorite family ski resorts in Slovakia. It has 14 km of groomed ski slopes, 2 cable cars and 8 ski lifts. There are also freeride trails, cross-country ski runs and a snowboard park. We recommend buying ski passes in Kubínska Hoľa online in advance on their website. This is a good way to avoid long queues at the checkout. In summer, Ski Park Kubínska Hoľa offers a few bike paths - the routes are easy and suitable for every age group. Plus, if you don't want to walk uphill, you can take the cable car. The resort also offers hiking trails in Orava, open buffets or you can rent mountain tricycles and mountain scooters.
Distance from Fatrapark: 33 km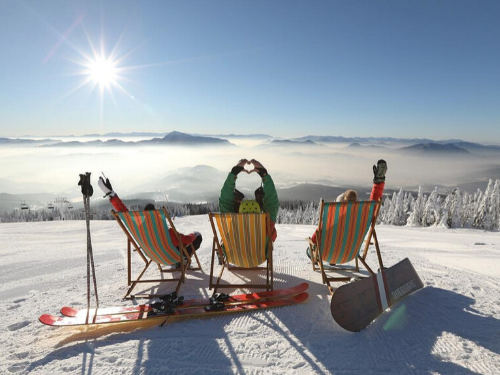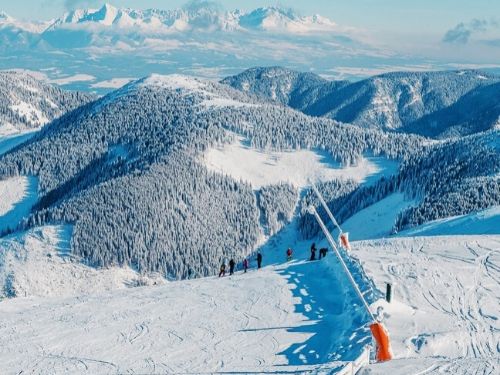 Jasná Nízke Tatry - quality skiing on Chopok hill
Jasná Nízke Tatry is the largest ski resort in Slovakia, where there are up to 49 km of ski slopes of varying difficulty. It is not only the largest, but also the most modern resort - you will find large heated cable cars, a modern snowmaking system, thanks to which skiing is possible on Jasná for many months. Lovers of adrenaline skiing and snowboarding in the freeride zone of the Jasná snow park will also enjoy themselves here. We like the views of the surrounding hills on Jasná. We recommend skiing earlier on the southern side of Chopok - this side is less developed, but there are many fewer people here, which will guarantee you a better skiing experience. You can come by car to Demänovská dolina - ie to the northern part of Chopok - but you can easily get to the south by cable car.
Distance from Fatrapark: 32 km
Donovaly - family ski resort
Park SNOW Donovaly is also one of the most famous ski resorts in Slovakia. The slopes together form up to 11 km. The resort is divided into two parts - Záhradište and Nová Hoľa. The garden is more suitable for beginners and intermediates. There is a 4-seater cable car and ski lifts. Nová Hoľa, in turn, offers slopes for intermediate and advanced skiers. There is a 6-seater cable car and an 8-seater cabin, as well as a ski lift. At the lower station of the cable car to Nová hoľa you will also find an ice rink and a unique attraction is dog sledding and snow paragliding.
Distance from Fatrapark: 29 km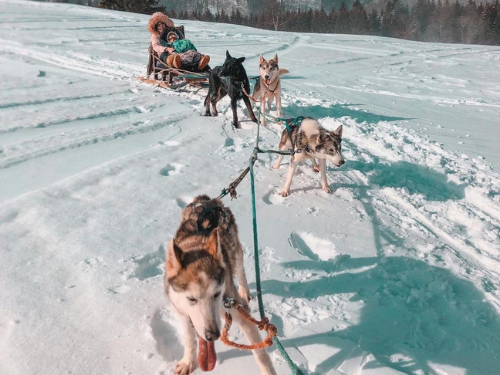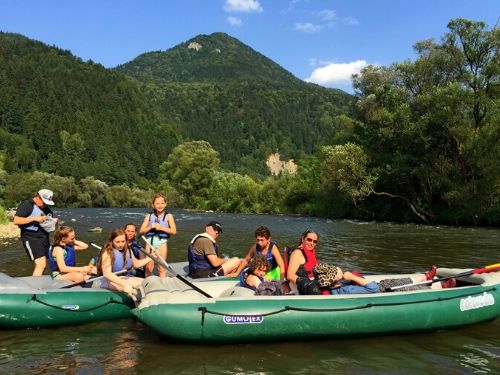 Rafting Ružomberok - fun for the whole family
Conquering the Váh River is fun for all family members. Experience rafting in Liptov with an experienced instructor. Rafting must be booked at least 1 day before you want to go on it. You can find contact with our partners Liptov Active - Rafting Ružomberok. A 6-seater raft boat with paddles and vests and a boat guide is rented. There are several rafting routes to choose from. Bring sports clothes, water-friendly shoes (ideal pedals / sandals) and water or snacks. You can also bring equipment (phone / camera) with you, they will be stored in a waterproof backpack. If you don't know what to do in Liptov and you already have hiking trails, then definitely do not miss rafting during your holiday with us at Fatrapark. Rafting is also suitable for children from 3 years (and with children up to 3 years, the instructor will choose a shorter and easier rafting).
Distance from Fatrapark: 4 km
Ovečkoland - feeding sheep and horseback riding in Pavčina Lehota
Ovečkoland is a unique amusement park that represents the traditional folk culture of Slovakia. Here you can try what it's like to "overeat" a sheep over an obstacle course, play with a lamb or feed the sheep. The surroundings are especially beautiful here - beautiful views of the Liptov and the panorama of the Low and Western Tatras. And children under the age of 12 can also try horse riding here - again with wonderful views of the Low Tatras. Ovečkoland is only open during the summer season, before visiting, check the Ovečkoland website to see if the park is open.
Distance from Fatrapark: 33 km (put "FUN Park Žiarce" to the navigation)