Malino Brdo
Ski & Bike Park Malino Brdo Ruzomberok
CURRENTLY: The ski resort has already started snowmaking and preparations for the 2024 winter season
Malino Brdo Ruzomberok is a well-known sports center visited all year round. It is located only 5 minutes from the center of Ruzomberok, but it looks much better than the city itself :) When you enter the Hrabovska dolina, which is a recreation area under Malino Brdo, you will find yourself in a completely different world. In green nature.
The Malino Brdo resort is embedded in the beautiful nature of the Velka Fatra National Park. And the starting cable car that takes you to Malino Brdo starts in the natural recreation area - Hrabovska dolina (also called Hrabovo). In Hrabovo there are hotels, restaurants, a lake, a grassy beach, adrenaline attractions, children's attractions, ski and electric bike rentals.
Hotels Malino Brdo
Fatrapark 2 are beautiful apartments and the best restaurant under Malino Brdo in Hrabovo. See the photo gallery of our apartments in Malino Brda:
Ski Park Malino Brdo Ruzomberok
In the winter season, Malino Brdo functions as a ski resort. It is a resort suitable for all types of skiers, from beginners to super skiers. From the 2023 season, a cross-country circuit has also been built here, and lovers of ski-touring or ski-alpinism will also enjoy themselves.
Map of slopes in Ski Park Malino Brdo Ruzomberok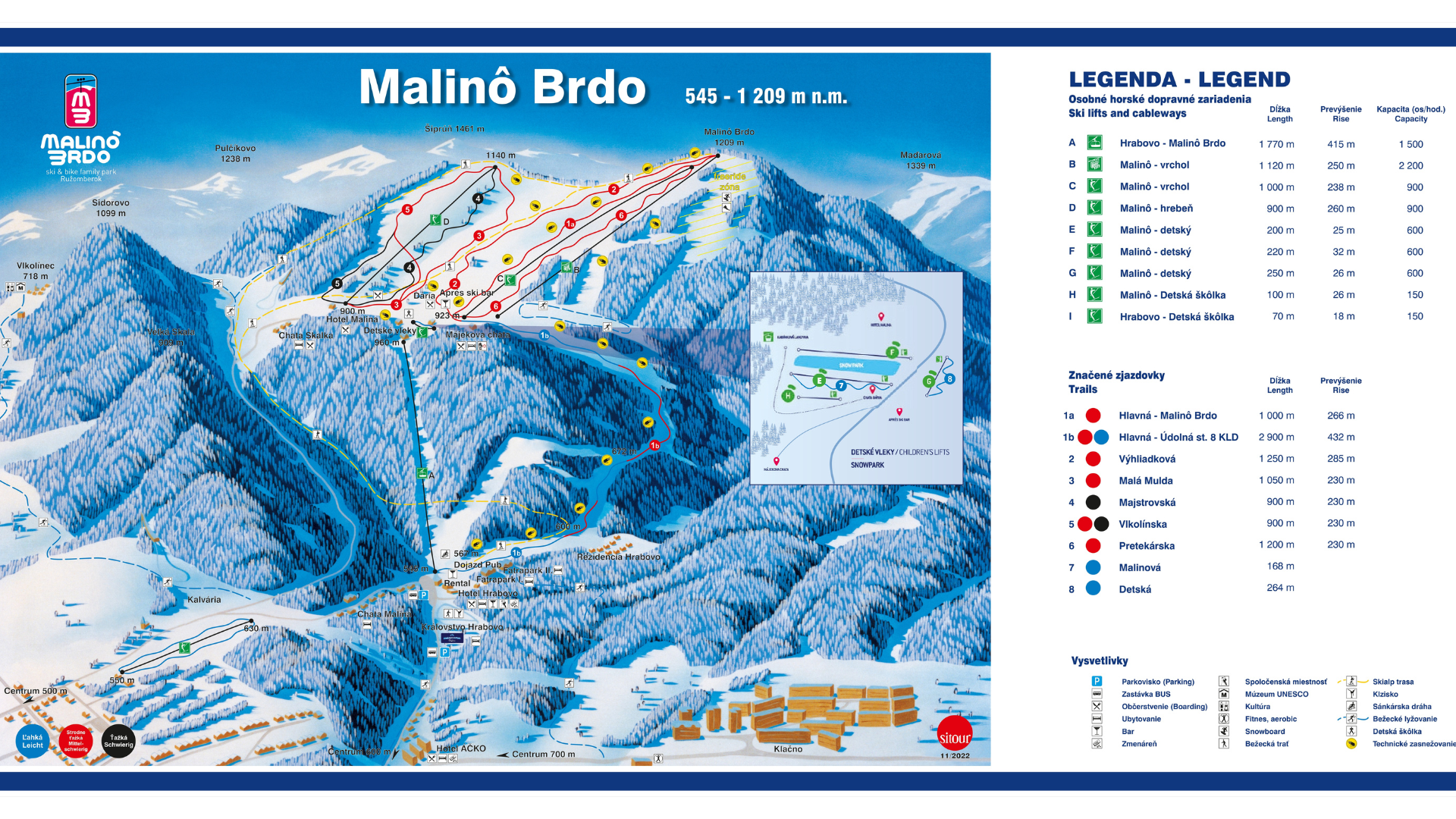 ---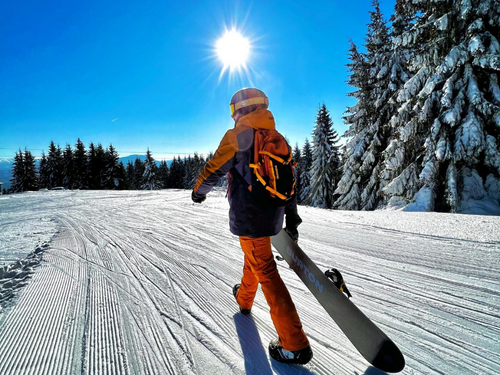 Downhill skiing Malino Brdo Ruzomberok
Ski slopes: There are up to 10 km of wide slopes. There are two children's blue slopes no. 7 and no. 8, the main slope is red no. 1a, but it's wide enough, so even weaker skiers don't have to worry. Experienced skiers also appreciate the other side of the red and black pistes no. 4 and no. 5. The best thing about Malino Brdo is when the second part of the main slope no. 1b, which leads down to Hrabovska dolina. When you drive all the way down to Hrabovo, the main slope has a total length of up to 4 km. Slope 1b is narrower, but has no steep sections, is red-blue, and certainly suitable for every type of skier. It is beautiful, it leads past the forest.
Cross-country skiing Malino Brdo Ruzomberok
During the winter season 2022/2023, a cross-country circuit was opened in Malino Brdo. It is a circuit with a length of 1.5 km and a height of 70 m. It is suitable for those cross-country skiers who like the skating style of cross-country skiing.
For cross-country skiing, you just need to buy a two-way ticket for the cabin cable car from Hrabovo. You go down the children's slope no. 7 to the beginning of the main slope that leads to Hrabovo no. 1b and next to the start of this slope there is a cross-country circuit.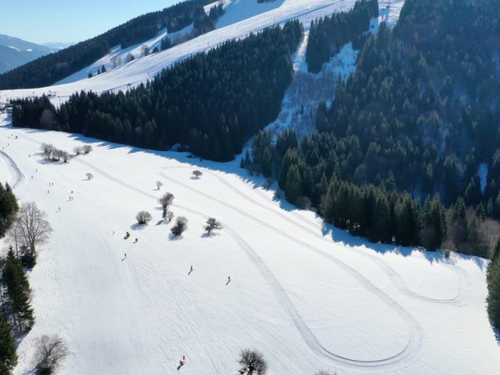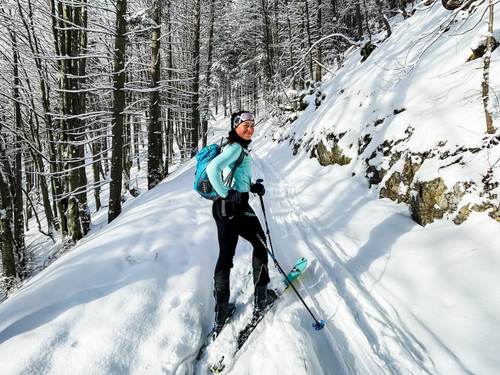 Ski mountaineering Malino Brdo Ruzomberok
Malino Brdo is also thinking about the latest favorite trend of Slovaks - skitouring. In addition to the standard ski mountaineering on the standard ski slopes, there are also other routes:
Medvedia cesta-Mederlyho chata-Malinne: the marked route for ski alpinists leads along the educational path, which ends at the intersection near Vlkolinske luky, from there the path continues along the path to the Mederlicka hut via Sedlo pod Vtácnik to the top of Malinne.
Medvedia cesta-Malino Brdo: From Medvedia cesta, you can also continue along the path to the resort to the lifts, where you can follow the forest path past Sidorovo Mini Farm to the Malino Brdo ski resort.
Modry Zamat-Malino Brdo: A more demanding route that copies the route of the summer bike park route.
The route can only be used in good snow conditions.
Malino Brdo apre ski-Malinne: The route leads along the left side of the main hill (past the beech trees), where there is a reserved part of the ski slope intended for ski alpinists, which leads to the top of Malinne.
Sledding with children Malino Brdo Ruzomberok
Of course, the ski resort takes into account that not all are skiers, or that not all children are skiers yet :) If you want to go up to Malino Brdo from Hrabovo, you can buy a ticket for the cable car for hikers. And you can safely sled on Malino Brdo on the hill above hut Chata Daria, next to slope no. 7. Children under the age of 6 even have a cable car ticket for free. You can also go to the cable car with a stroller. You can also rent sleds for €5 at the Rental rental shop in Hrabovo, next to the ticket office for the cable car. Or in the Apartment house Fatrapark 2 we also have some sledges to rent for our guests.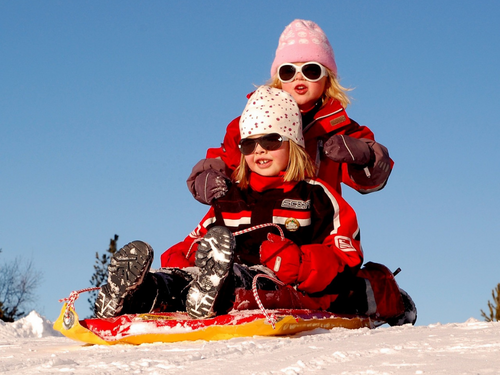 Photogallery Malino Brdo Ruzomberok in winter
Bike Park Malino Brdo Ruzomberok
In the summer season, Malino Brdo mainly functions as a bike park for downhill mountain bikes. But it also offers sections suitable for riding mountain scooters and go-karts, which you can rent at the bike park.
Downhill mountain bike tracks are up to 10 km long, making Bike Park Malino Brdo one of the TOP bike centers in Slovakia. Malino Brdo is also visited by bikers from all over Central and surrounding Europe and they are really enthusiastic about Malino Brdo.
Map of bike trails in Malino Brdo Ruzomberok: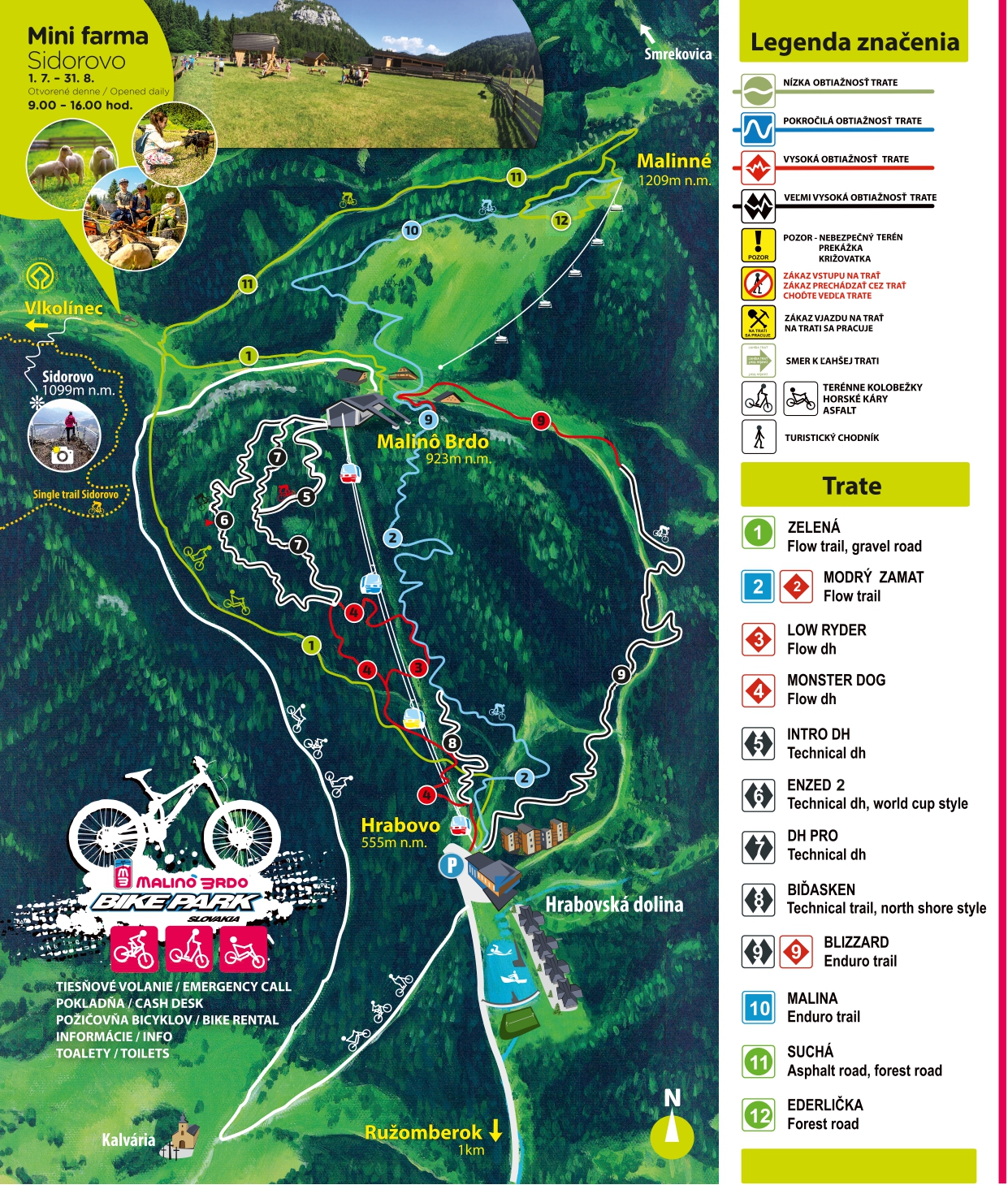 List of bike trails in Malino Brdo Ruzomberok
---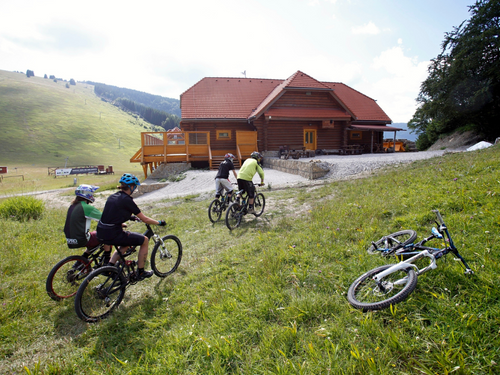 Zelena - Bike Park Malino Brdo
This is the easiest track, ideal for complete beginners and families with children. It is located below the top station of the cable car and is mainly made up of forest roads and grassy areas. There is nothing easier than picking up a bike and equipment at the rental shop and going down "for the first time"!

Lenght: 4 300 m
Modry Zamat - Bike Park Malino Brdo
Get to know this freeriding track, which is the most popular in Ruzomberok for many. Right at the start, it starts as a separate line and 90% of it consists of an artificially shaped clay surface. There are a lot of banked turns (about 60), jumps, doubles, benches and waves. It is intended for both beginners and experienced riders. Everyone will find their own way at their own pace. Definitely recommend!

Lenght: 3 100 m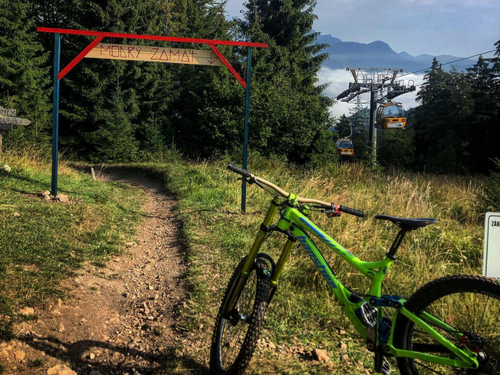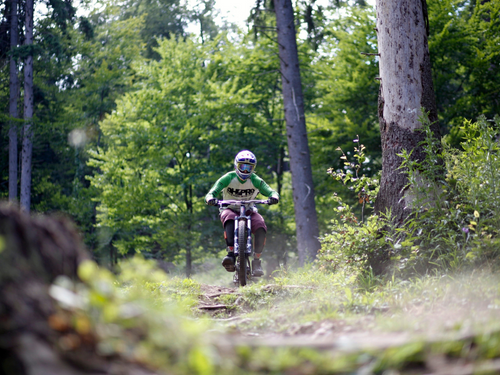 Low ryder - Bike Park Malino Brdo
This track is intended for less experienced riders and has the character of a DH singletrack without artificial obstacles. It can be accessed from track no. 2 approximately after 1.3 km and leads to track no. 4. You can also connect to numbers 1, 2 and 4.

Lenght: 500 m
Photo gallery Malino Brdo Ružomberok in summer
Tips for other attractions and places nearby Malino Brdo
strong>